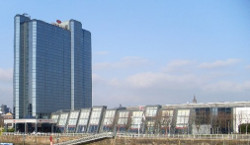 The Hotel
Hotel now Full.
The Convention will take place in the Crowne Plaza Hotel, Congress Road, Glasgow G3 8QT. The hotel is situated about two miles from Glasgow City Centre and beside the Scottish Event Campus. The hotel is familiar to SF fans, having hosted four Satellite conventions (#2 in 2009, #4: Eastercon 2014, #6 in 2018, and #7 in 2022) and Concussion (Eastercon 2006), as well as being the principal hotel for both Glasgow Worldcons.
For further information see the hotel website.
Hotel Bookings are open now.
The convention rate is £152 per room per night, including full Scottish breakfast, between 25th May and 28th May inclusive. To secure this rate please book before 22nd April 2023.
An email was sent to members with the booking link on the 19th of February – if you did not get this please email hotel@eight.satellitex.org.uk to get the link.
If you have any additional needs or requests please contact the Hotel on 0141 306 9988.
Bookings are subject to a non-refundable deposit, taken at time of booking, for the first night's stay. The booking can be cancelled up to 4pm (local Hotel Time) 3 days before the first night of stay.